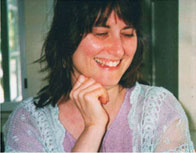 Her pure, heartfelt singing, compelling harmonies and expressive, award winning songwriting have taken Carol to growing audiences at shows, festivals and community gatherings. She has been playing traditional, contemporary and original bluegrass, country, and folk music with various bands in the Mid-Atlantic States and New England. In 2009 she won First Place at the legendary MerleFest Chris Austin Songwriting Contest in Wilkesboro, NC, with co-writer Colin McCaffrey, in the Bluegrass Category for "Love Gone By."
Carol started singing and playing guitar with her father when she was seven, in a corner of their New Jersey living room prior to moving to Takoma Park, MD. While working across the river in Greenwich Village, he was deeply drawn to the dynamic music scene of the Village and at home showed Carol many traditional and new songs. Music played often on the radio, on recordings, and on his guitar, her favorite, which he then taught her. She soon began playing and singing along, and later writing songs of her own.
She fell in love with bluegrass and found her way into the local bluegrass scene from one of her ninth grade teachers, joining his Gold Watch Band. Whenever she could get a ride, she also headed to the Englishtown Music Hall towards the Pennsylvania border to see bluegrass legends like Bill Monroe and Ralph Stanley. After moving to the musical haven of Takoma Park, Maryland, she sang lead and harmony with several bands in Maryland and Virginia. All three of Carol's Takoma Park duet singing partners, Karen Collins, Eleanor Ellis and Ed Schaeffer, are among the harmony singers on Carol's CD Still Hear Your Voice. Since moving to Vermont, Carol has been performing around the state.